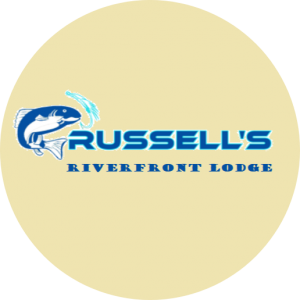 Welcome to Russell's Riverfront Lodge
PLEASE READ CAREFULLY-THIS WILL ANSWER MOST OF YOUR QUESTIONS
Thank you for booking your Alaska vacation with Russell Fishing at Russell's Riverfront Lodges. You will have a wonderful time and enjoy all that the Kenai Peninsula has to offer.
The onsite property managers will be Brian and Marianne Swain. They will handle your check in and any issues or emergencies you might have while at the property.
You can click to call if needed by using the button below:
Call Marianne
A detailed map is provided to make sure you get to your launch points on time. Please take the time to familiarize yourself to avoid any problems. All necessary phone numbers are listed below and on the map. Please carry it with you and call your charter guide directly with any direction or timing issues.
As you settle in to your accommodations and start to relax and unwind from your trip, please review the information below.
Hopefully, this will answer any questions you might have so you can begin to enjoy your vacation immediately.
Fishing information:
* Your weekly fishing itinerary which is attached has been developed by Jessica and Glenn from Russell Fishing. If you have any questions regarding your itinerary, please call Jessica or Glenn.
JESSICA
GLENN
Your fishing will all be guided by the professional and fully licensed and certified Russell staff (They are not on site)
* If there are any daily changes to the fishing to the fishing itineraries, Jessica will call and notify you in the evening. At this point it will be difficult to make more changes so if you have any special requests, please text Jessica or Glenn.
JESSICA
GLENN
Your weekly activity sheet will give you details of where to go, who your guide will be, what you need to bring, phone numbers, etc. Please be on time. The Swains are not involved in the fishing aspect but speak to Jessica and Glenn regularly. Your licenses (and king stamps where applicable) need to be on your person when you are fishing or you won't be able to go on your charter
* If you fish on your own at our docks or elsewhere, you can use our gear. We will get you started with leaders, hooks, lead and flies but if you run out you may have to run to the store to get more. Please let us know if you are taking the gear off the property and/or if you break any equipment. We have to charge $50 each for a broken rod or reel .
* We have planned your individual events well in advance, but external factors such as weather, tides, fishing success and conditions, fishing regulations, and ADF&G emergency orders can have an effect on the schedule, so please be understanding if there are any changes.. Rest assured, we will get your entire schedule of trips accomplished while allowing for some flexibility for your preferences as well. We can't guarantee that we can make changes from your original itinerary. Weather, especially in fly ins or saltwater can be a factor. We will do our best to make sure your charter takes place, but there are times when we aren't able to move those charters around. If they are cancelled, we will replace with a river trip of your choice (sometimes on short notice).
* Stop by a local store to purchase your license if you haven't done so already. We do not write licenses at the lodge. Your rain gear and boots will be given to you upon arrival. Please hang your rain gear and boots on your porch to dry. If you have a leak, let us know. Please contact the Swains at the end of your trip to return your equipment, boots and rain gear.
* Fish processing is done by Tanners Processing AKA Kasilof Seafoods. Plan to take a cooler or tote with you to transport your fish because after each charter, your fish will be filleted and given to you to drop off at processor for professional freezing and packing. The Store is located in Soldotna and directions are on your map. If you have special requests for smoking, specific packing or want to ship instead of carrying on the plane, please contact Kasilof Seafoods/Tanner's Fish Processing directly at 907-262-9572.
(907) 262-9572
Jessica will contact you as your stay comes to an end regarding your fish and what time you plan to pick up, how you like it divided up, etc… We are not responsible for shipping or providing fish you do not catch.
* If you are going on a fly in charter or fish on your own, please take a heavy duty trash bag or cooler with you. If you fish on your own, please put any fish you catch in a heavy plastic bag and place inside a fish cooler with ice. Tag with your name on the bag itself and leave in fish cooler in Swain lodge garage. Text Jessica upon return from your fly in or personal fishing. It is extremely important to at least bleed your fish by cutting the gills (or you can gut) before you leave the river. We don't want any bear issues so cleaning fish around the buildings is prohibited.
Lodging and breakfast information:
* Check out is around 10 AM arrangements when available can be made so you can put your luggage in the main lodge and hang out if you have a late flight.
* Food for your continental breakfast is provided and you can stock up on groceries to prepare your lunches and/or dinner.
* Please park where Guest Parking is marked.
*FIREARMS: Per the property owners, no firearms are allowed on the property unless kept locked and secured in your vehicles trunk. Also please do not bring firearms on fishing charters or you may not be allowed on the boat.
Miscellaneous information:
* There is a hospital nearby in Soldotna. If you have a pre-existing condition we should be aware of, or if you need medical attention, please let us know.
WIFI is available. SWAIN password : 9072620603 and OWEN password: 4066727886D Wifi is not very fast and won't allow streaming or audio/video downloads of much size….but you didn't come to Alaska to be on your computer.
* Weather varies daily and forecasts are not reliable. Be prepared for anything from high 30s in the AM to 7o in the afternoon. Layers are best. Dress warm in AM. It can rain at any time so always be prepared with rain gear on your charters.
* Mosquitoes are abundant and large this year (Alaska State Bird) Repellant with Deet works best.
* If there is any damage to the lodge or equipment that is caused by your group, we have the right to bill the credit card on file for the appropriate amount. Obviously we will discuss with you.
Enjoy your stay with Russell Fishing Company!